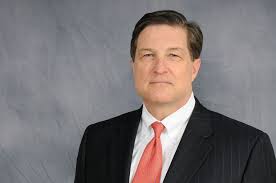 On May 26, 2015, students and facility of the Graduate School of Banking at LSU gathered in the Union Theater to hear Jeff Lacker, President of the Federal Reserve Bank of Richmond, present an informative history on the "Quest for Financial Stability" in the U.S., and the changes that need to happen for a better financial system.
Dr. Jeff Lacker, who presently serves as a voting member of the Federal Reserve Open Market Committee, recently stated in a press release that he feels that interest rates should rise before the end of 2015.  The press release on the July meeting of the Federal Open Market Committee, published on September 17, 2015, indicates strengthening in the economy but a standstill in increase of the interest rate. Lacker was the sole vote to raise the target range in the July meeting.
In his address to the 2015 GSBLSU students, Lacker discussed his personal views to restore market discipline by solving the problem of firms perceived as "too big to fail." He explained the ironic origins of these firms with an analysis of the banking system in the 20th century. He argued that the moral hazard resulting from the establishment of the federal financial safety net attributed to an unstable financial system. His solutions to this problem are implementing long-term strategies to restore market discipline, such as resolution planning for large institutions known as living wills, and limiting the power of government agencies to intervene in turbulent economic times.
(The full speech can be viewed by clicking the link here.)
In closing, Lacker emphasized that this strategy could bring the country a financial system independent of government support and financial institutions that can effectively support our "dynamic and innovative economy". "This is going to be hard work, and some will claim it's impossible," he concluded. "But the alternative seems even less promising … that path is unlikely to serve our country well. So I believe we need to step up and face the challenge of creating a stable and resilient financial system."
https://www.gsblsu.org/wp-content/uploads/2018/11/jeff_lacker_photo.jpg
183
276
Jared Broussard
https://www.gsblsu.org/wp-content/uploads/2018/11/GSBLSU-01.png
Jared Broussard
2015-09-23 15:26:15
2020-06-29 21:10:55
2015 GSBLSU Keynote- Jeff Lacker